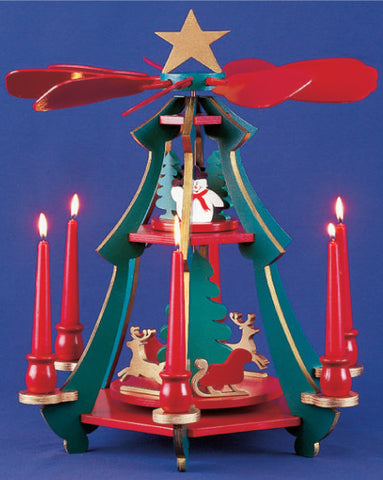 Candle Christmas Carousel Project Pattern
We don't see these items much anymore do we?  I'm sure in today's world there are just too many legal worries for companies that might retail such an item.
Thankfully, for research purposes only, we have patterns available for you to build your own "retro" Christmas heat / candle powered whirligig carousel -- just like there were in the good old days of yore.
The final carousel measures 20" high, 14" wide.
SRX Enterprises, LLC., (Scrollsaw.com) makes NO warranty as to the safety of this product, nor do we recommend that it be used in real life.  Using the final product is up to your own discretion and meant for research purposes only.
Paper plans by mail incur NO shipping fee.
A list of materials needed are provided, along with the rough cut size for each piece, plus full size patterns, printable from any desktop printer.  Shop notes and exploded construction diagram aid completion.
Full size download is made available immediately upon purchase.
Download a FREE pattern to see a sampling of the high quality you will receive from Scrollsaw.com and consider signing up for our Free Pattern Club Email List with no obligation.
---
We Also Recommend
---