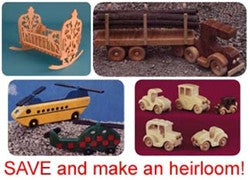 Wooden Toys Value Pack of Patterns -- for Download
When it comes to wooden toys, you've get several staple classics in this valuable pack of patterns.
Purchased individually, you'd pay at least $40 for paper plans.  Download this pattern pack and print FULL SIZE patterns right from your desktop printer.
There are a total of 12 individual projects (toy train counts as just 1 project).
Immediately after purchase we will email you a link which will give you access to download the FULL collection.  Scroll down to see each project included in this Value Pack -- all great projects.
Note:  This pattern pack is included in our USB Super Value Pack.

         Classic log truck.  19" long.             Two helicopters.  10 & 20" long.

     Classic 7 car train.  63" long in all.               Two planes.  10" long each.

        5 fendered cars.  4 to 8" long.                  Mini doll cradle.  7" long.
Select a project today, get the pattern today, start your scroll saw TODAY!
In addition to full size, traceable patterns, you will receive a list of materials needed, shop notes to aid in assembly, an exploded diagram, and some great tips on scrolling in general.
If you'd like to see the quality of our patterns before you invest, click here for a free sample pattern.
---
We Also Recommend
---