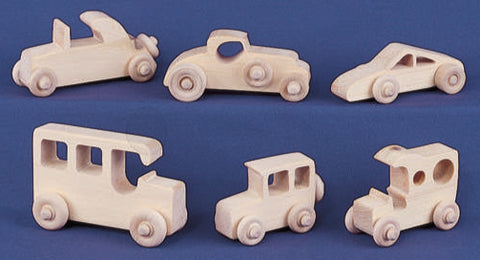 21 Mini Car & Truck Patterns for Scrolling & Woodworking
You get the 6 projects pictured, plus 15 more quintessential wooden vehicles.
The sizes of these little boogers range from 3" to 6.5" in length.
We recommend purchasing pre-made wooden wheels for all of your wheeled projects and we can give you a source for this hardware at a great price if you ever need them -- even if you make a jig, getting a perfectly round wheel is VERY difficult.
Paper plans, as always, incur NO shipping fee.

A list of materials needed are provided, along with the rough cut size for each piece, plus full size patterns, printable from any desktop printer.  Shop notes and exploded construction diagram aid completion.
Download a FREE pattern to see a sampling of the high quality you will receive from Scrollsaw.com and consider signing up for our Free Pattern Club Email List with no obligation.
---
We Also Recommend
---