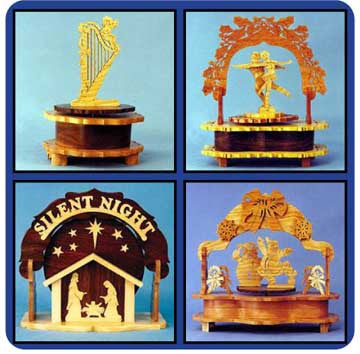 Winter Wonderland Music Box Value Pack of Patterns
Note:  This pattern pack is included in our USB Super Value Pack.
This Value Pack is immediately available for download after purchase.  You'll receive full size patterns and material lists for all four (4) music box projects pictured here.
The first music box is cherub angels on harp standing about 7" tall.
Next, an ice skating theme at 9" wide.
Third you have a beautiful depiction of the Nativity at almost 9" wide.
Finally you have a Christmas theme with St. Nick, a snowman, and candy cane accents to complete the scene measuring 12" wide.
NOTE:  This pattern pack is ONLY available by download, able to be purchased on this page by adding it to your cart.
Four individual patterns even at just $3.95 each = $17.80 -- but here you pay $7.95 for all four patterns and gain immediate access to the patterns via download, a more than fair value for high-quality projects such as these.

---
We Also Recommend
---