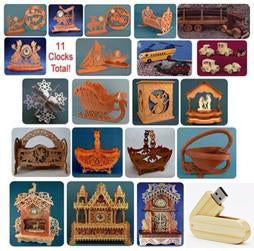 A Super Pack of 26 Scroll Saw Patterns on Wooden USB
Note:  ALL of these patterns are included in our USB Super Value Pack.
If you're looking for a few projects, but don't know exactly what you want to build, this is a great pattern collection for you.  There is a little bit of everything in this pack, giving you many options for projects for your own household -- or as gifts for family and friends.
Projects for all skill levels are included.  A great mix.
Toys, ornate clocks, baskets, fretwork, and household items.
You will receive our attractive wooden USB drive with these 26 individual PDFs which actually include 29 projects in all -- that's less than $1 per pattern. . .and you can re-use them again and again.
U.S. residents can expect delivery in 3-7 days.  Our shipping is always just $1.95 for U.S. orders under $39.oo -- S&H for orders over $39.oo is FREE!
Each pattern set is nicely labeled so you can go directly to the patterns you're interested in.  Keep these patterns on the media or on your computer for printing, scrolling, and re-scrolling for the rest of your life.  No lost pattern pages.  Always accessible.  We guarantee you will be happy with these projects and with the value for your dollar or your money back.
Scroll down to see each project included in this Value Pack -- they're great projects and you get full size patterns for each one.
1. More Fancy Fendered Cars.  Classics, ranging from 4 to 8" long each.


2. The Bell Tower Clock stands 23" tall and spans 19" in width. Just a beautiful piece which looks almost like a European church. Angels are featured in the lower box, with elegant scrolling dominating.



3. America's Pride Clock stands 28" tall, it's 16" wide. You might have seen this in the late 1700's in a wealthy American home. Now revived with your scrolling skills -- sure to be an heirloom.



4. The Detailed Snowflake Ornament is 5" wide, beautiful, and can be stained or painted in a variety of ways. Sure to be one of "those" ornaments passed down from generation to generation.



5. The Tabletop Christmas Sleigh is a classic project. It's 11" long and is great as a centerpiece for your table, or for knick knacks during the Christmas season.



6. Proudly keep the sniffles at bay with the Angel Tissue Box Cover which is about 6" high, easy to make, and a very nice addition to the household decor during Christmas.



7. The Nativity Music Box looks great on a table near your Christmas tree, or in any part of the house. Find a movement with your favorite hymn or Christmas song and enjoy. 9" wide.



8. The Pegasus Fruit Basket is 11" wide and features the mythical Pegasus winged horse. Scroll work also includes oak-like leaves, a shield motif, and Olde World foliage and vinage in the arcs.



9. The Victorian Basket has a length of 16". A beautiful and classic piece featuring hearts in the handle (easily replaced with your own design or filled entirely) and vines with small flowers on the sides.



10. The Swan Basket has a unique curved bottom, standing 11" long. Cat tails and reeds frame the two love swans, while hearts continue the country or sweetheart theme. Great gift for a special gal.



11. Made from one piece of wood, the Collapsible Heart Basket stands 7" tall, making it both cute and accessible by most scrollers. Folds flat. Great conversation piece.



12. The Deer Silhouette Clock, standing 18" tall, features a buck adorning the top of the mount, with a shadow box-like 3D scenery to create underneath the clock itself, also featuring a deer within nature's scenery.



13. The Elk in Nature Clocks, 6-9" wide -- clocks in this packet use a 1 3/8" clock insert.



14. The Wildlife Scene Desk Clock, over 7" wide -- uses a 1 3/8" clock insert.



15. The Southwest Art Mini Clocks, 6-9" wide -- clocks use 1 3/8" clock inserts.



16. The Tea Maidens Desk Clock, over 7" wide -- clock uses 1 3/8" clock insert.



17. The Nautical Mini Desk Clocks, both 9" wide -- clocks use 1 3/8" clock inserts.



18.  A Mini Doll Cradle, at over 7" wide -- enlarge or reduce at the local copy shop for your preference.



19.  A Wooden Log Truck, at 19" long, a time-tested boy's toy sure to be an heirloom remembered.



 20. Finally, our Wooden Helicopters, from 10 to 20" long, which are unique...don't see too many well-made helicopters.

Shipping is included in the cost of the package, so no surprise at checkout.  We hope you'll take advantage of this fantastic offer -- you will not be disappointed.
NOTE:  Please remember, all Scrollsaw.com patterns are Copyrighted and distribution (for free or for sale) is strictly prohibited and enforced under intellectual property rights law.  The use of these patterns is limited to the end buyer and the end buyer only.  Not only is it the law, it's the right thing to do.
If you'd like to see the quality of our patterns before you invest, click here for a free sample pattern.
---
We Also Recommend
---