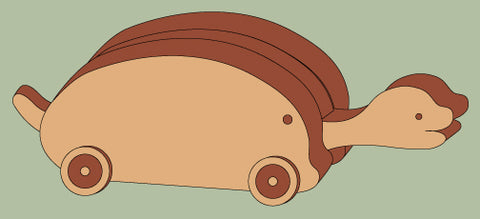 Animated Turtle Mechanism Patterns
Learn how the mechanism works, then change the head, tail, and body to the animal of your choice.  It's a great set of plans to learn this type of toy and how it works.  As you know, animated wooden toys are classic Americana.  Update this design and put a smile on some kids' faces.

Like most projects with wheels, you want to buy them, not try and cut them out -- even with a jig this is time consuming and rarely perfect.  We have a great source for all kinds of wooden wheels at a low cost.  We can help you with that source if you need it.
A list of materials needed are provided, along with the rough cut size for each piece, plus full size patterns, shop notes and exploded construction diagram aid completion.
---
We Also Recommend
---